Latest News




Horse of The Month October

Monaco Prince





Monaco Prince is a 10 year old gelding that ran just the once at Windsor and trained with GA Huffer Here is what his owner has to say about him.




"I am entering Monny for horse of the month as over the last 5yrs we have had many ups and downs and times I thought I should give up. Something between us kept me going and we have persevered. This year we were finally able to say to some people who thought he was a waste of time and useless, look at us now! We qualified for the Trailblazers championships in dressage and ROR dressage too. Not bad considering I had a comment made about 2 yrs ago of 'he is not a dressage horse, you should get a proper horse'. Believe me, I have a proper horse and he has made most of my dreams come true. This would really be a great thank you to him if he were to be horse of the month."




Horse of The Month


The Ex Racers Club would like to introduce the new "Horse of The Month" photo feature.
Each month a photo of an ex race horse will be featured on our website and forum and the lucky horse will also receive a rather special rosette. Entry to the "Horse of The Month" feature is FREE but your horse must be registered with the club.

The first feature will be the 1st of March and entries are now open. Simply send a picture of your horse including his racing name and most important his registration number and a paragraph of text saying why you think your horse should be horse of the month to exracers@horse-directory.co.uk. Only one entry per month accepted

We are looking for any appealing photographs, whether it be your horse fast to sleep in his stable or competing or at home in the field covered in mud. Any photograph will be suitable as long as you own the copyright to it. Your paragraph of text may also be used along with the photo should your horse be selected to be featured. Pictures may be submitted at any time. If your horse is not selected please feel free to resubmit for the following month.

Also by entering the "Horse of The Month " feature if you are taking part in either the Competition or Pleasure Horse leagues your horse will receive 1 point for entering. Just mark Your points card with "Horse of The Month" Only one entry per month accepted.


The competition will continue to run throughout the year so please keep submitting those photos each month.
---
Ex Racers Club Calendar Competition 2013
Any profits going to Greatwood Retired Racehorse Charity
Greatwood also works with over 250 children with special needs per year through Horse Power. Horse Power is a remarkable programme where the children interact with our horses, helping them to develop the life skills they need for a fruitful and positive future.
Entries are now closed.

Many many thanks to those of you that entered this we have been overwhelmed with the response. results and details of when the calendars will be ready will be posted here soon.
¸¸.•*¨*•*´¨)
¸.•´¸.•*´¨) ¸.•*¨)
(¸.•´ (¸.•` ¤ Thank you!
---



Blue Chip Feed Ex Racers Championship results.




National Results

The Blue Chip Feed Inhand Ex Racers Club Championship:
1. Mitcheldean
2. La Choncha
3. Harry Harestone

Champion. Mitcheldean
Reserve. La Choncha

The Blue Chip Feed Ridden Ex Racers Club Championship:
1. Lord Of The Castle
2. Follow The Trend
3. Moorlander

Champion. Lord Of The Castle
Reserve. Follow The Trend

Pictures to follow soon

---
Scottish Results




1. Max the Obscure
2. Roscommon
3. Chasing the Stars

Champion: Max the Obscure
Reserve: Roscommon

Class 2 Blue Chip Ex-Racers Club Ridden Scottish Championship Final

1. Burton Hall
2. Grey Mountain
3. Roscommon

Champion: Burton Hall
Reserve: Grey Mountain

Pictures to follow soon.

---
---
---
---
The Ex Racers Club is proud to announce the return of the points leagues.
This year will see two leagues one for the Competition Horse and the other for the Pleasure Horse.

The only requirement to enter the league/s is that your horse must be a registered member of the Ex Racers Club.

The Competition Horse League:

The winner will be announced later in the year on our website and receive a prestigious award
The horse may earn points from any organised competitive event.
Such as:
Endurance
Eventing
Showjumping
Dressage
Le Trec
Point to Pointing
Team Chasing
Driving
Showing
Hunter Trials
or any other organised event with a competitive element
Points are awarded as such:

1st Place -4 points
2nd Places -3 points
3 Place -2 Points
Taking part 1 point
Eventing and Le Trec

6 points for 1st
5 points for 2nd
4 points for 3rd

3 Points for taking part In the entire event

The Pleasure Horse League:
The winner will be announced on our website later in the year and will win the Prestigious Petrovna award.
The horse may earn points from any organised activity that does not have an competitive element to it such as:

Fun Rides
Charity Rides
Training Days
Hunting
Demonstrations
Parades
Public Appearances
Any other equestrian organised activity that does not have a competitive element to it.

Points are awarded as such:
1 Point for taking part in any event

Horses may enter both leagues

Points cards can be downloaded below.


Competition Horse League Card


Pleasure Horse League Card

---
---
The

Ex Racers Club

is a national non profit making organisation that offers support to the ex-racehorse and owners and anyone that has an interest in them. Their aims are to promote the ex racehorse and help both horse and owner in their new careers. We organise classes, clinics and parades all over the country and hold our own Championship shows in Lincolnshire and Scotland. Only horses registered with the club may participate in Ex Racers Club activities.

We have both national and international members and also welcome trainers and owners.

A forum is also available to list racehorses that have finished their racing career and are now looking to be re-homed. Please note this forum is not for dealers or commercial sellers.

Ex Racers Shows and Classes and registration

For those wishing to take part in an ex racers club class will need to register their horse with the club for a one time life registration fee of £10.00 this will then entitle you take part in any class that is organised by the "Ex Racers Club" in the future. No annual subscriptions, even if the horse changes owner, the registration stays with the horse for life.

You will also receive a certificate and your horses lifetime registration number.

For those wishing to enter a class and find that there aren't any in their area then please email us.

If you are interested as a business or individual in sponsoring a class for an ex racer in his new career please email us at

exracers@Horse-directory.co.uk
---
Latest Pictures
Horse of The Month September 2013
Astrobrava


Astrobrava is a 7 year old mare that ran a total of 8 times getting placed 3rd in one of her races and was trained by Mark Tomkins.
Here is what her owner has to say about her
"
This is my 7 year old mare I got her out of racing at the end of her 3 year old career. I did a bit of eventing with her as a four year old then dressage through the winter then the following summer I was going to pursue a showing career with her but tragedy struck and she trod on a nail in the field and had to have surgery on her foot which meant 9months box rest!!!! This year once she had fully recovered we got cracking on her training in January and then I arch she won a small in hand show at the British racing school! She has since been to lots of county shows getting placed well! She qualified for the big ROR final at hickstead where she came 4th and got to parade in the derby arena! She recently competed at vale view in the ROR HOYS qualifier and came 2nd out of 42 to qualify for the prestigious HOYS final! I couldn't be prouder of my little ginger princess and many thanks to Katie Jerram and team for helping make this possible! X
"
Horse of The Month August 2013
The Wicked Witch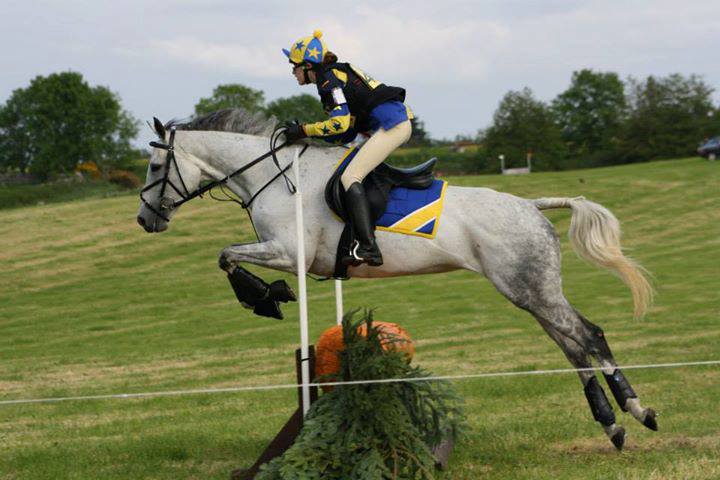 The Wicked Witch is a 10 year old mare that ran a total of 11 times both as a hurdler and chaser. She never won very,much but it looks like that's all changed now. Here is what her owner has to say about her.


"This is Lottie, I only got her in October last year but we have already qualified for three championships!! The first is a regional show jumping championship which I have qualified in the 80cm and 90cm classes. The second is the British Riding Clubs BE80(T) championship in Leicstershire and the third is the ROR Racehorse to Dressage Horse prelim final also in Leicstershire. We mainly go out and event and she loves the cross country she looks like she smiles when we are warming up and going around the course. We have recently moved up to BE90's and hoping to do some of the BE90 ROR classes. She is an amazing horse and I love her."
Horse of The Month July 2013

Danish Blues
Danish Blues is a 10 year old gelding that ran on the flat 38 times. Won a few thousand pounds too. Just look at that mud. Here is what his owner has to say about him.

"This is blue, he is my first horse and I've had him since September. When I got him he was just skin and bones and covered in rain scald, he would follow people around like a lost puppy and didn't seem to like being in a field with other horses. But now he's back in shape and has his confidence back. His true character is coming through and turns out he's a very cheeky chappy! He's now happy running in a herd and doesn't need me to walk him up the field everyday. He's an amazing boy and everybody just loves him"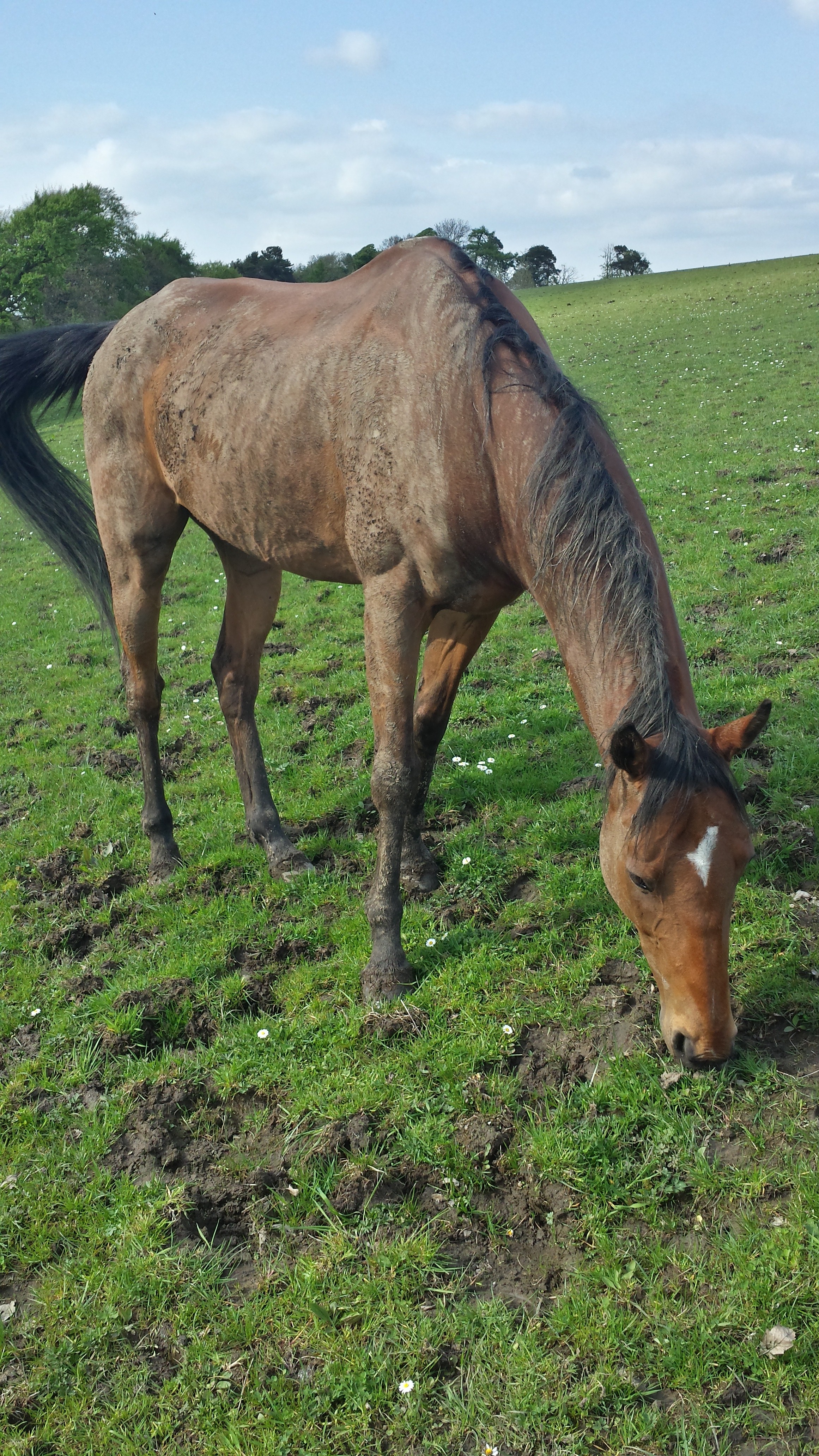 ---
Horse of The Month June 2013

Bywell Beau
Meet Bywell Beau.
Bywell Beau is a 14 year old gelding that ran a total of 40 races including hurdles and chases. He won over £40,000. Here is what hiw owner has to say about him.
"Coming to me with no retraining at 13 years old I was surprised at how chilled out this boy was. He has a heart of gold and, although he is extremely clever, he is embracing his training. It's silly to think that our greatest achievement to date is that he will now stand still by the mounting block! Something I will never take for granted again I can assure you. It is because of this brilliant milestone, and also our recent 65.65% score in affiliated dressage at only his second ever competition!!, that I believe Beau should be June's horse of the month."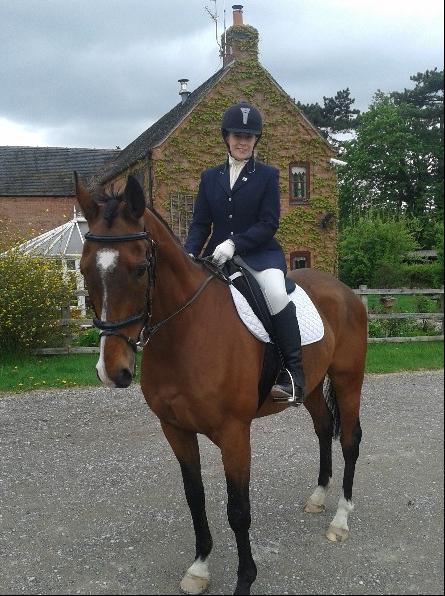 ---
Horse of The Month May 2013

Hubbly Bubbly

Meet Hubbly Bubbly.
Hubbly Bubbly is a 15 year old bay gelding that ran 4 times under rules and also ran in 3 point to point races. This is what his owner has to say about him.

"This is my horse Hubbly bubbly telling me what he thinks about getting up and going for a ride!!

Hubbly is enjoying a quieter life now, he has been in my life 6 years and its been full of ups and more than our fair share of downs but I wouldn't swap him for the world!! "



---
Horse of The Month April 2013
Twice
Twice is a 17 year old bay gelding that ran a total of 19 times both on the flat and over hurdles, he even won a couple of them too. Here is what his owner has to say about him.
" After having him nearly 9 years, Twice is my horse of every month, but think he deserved a special little mention as he has just completed his first winter living out 24/7. At 17 his old joints get very stiff when he is kept in and he also exhibits every stable vice you can think of. So this year I let him grow his coat and left him out. Its not been easy, there's been mud fever and soft frogs to contend with, but other than that I hope you can see hes done really well! "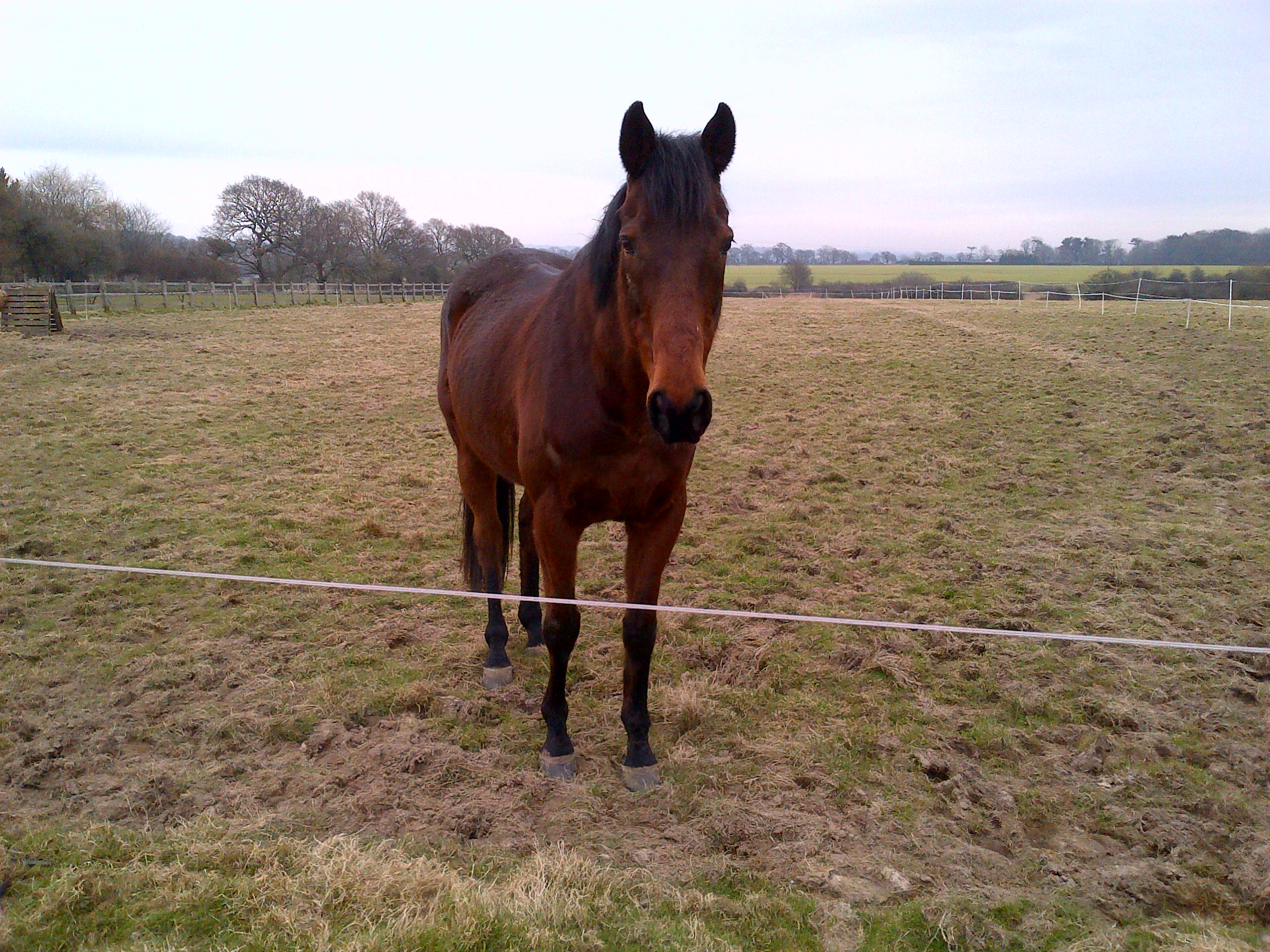 ---

Horse of The Month March 2013
Night Driver
Meet Night Driver. Night Driver is a 14 year old bay gelding that ran on the flat and over hurdles. Here is what his new owner says about him.
" l rescued him from Bahrain 5 years ago and took him to the UAE where we lived until 2 years ago. I ride him without a bit in a string head collar this picture was our first attempt at jumping without anything and he was brilliant. He always tries to please whether on the ground or in the saddle. I
like this picture because he looks so free and l am very proud of him!"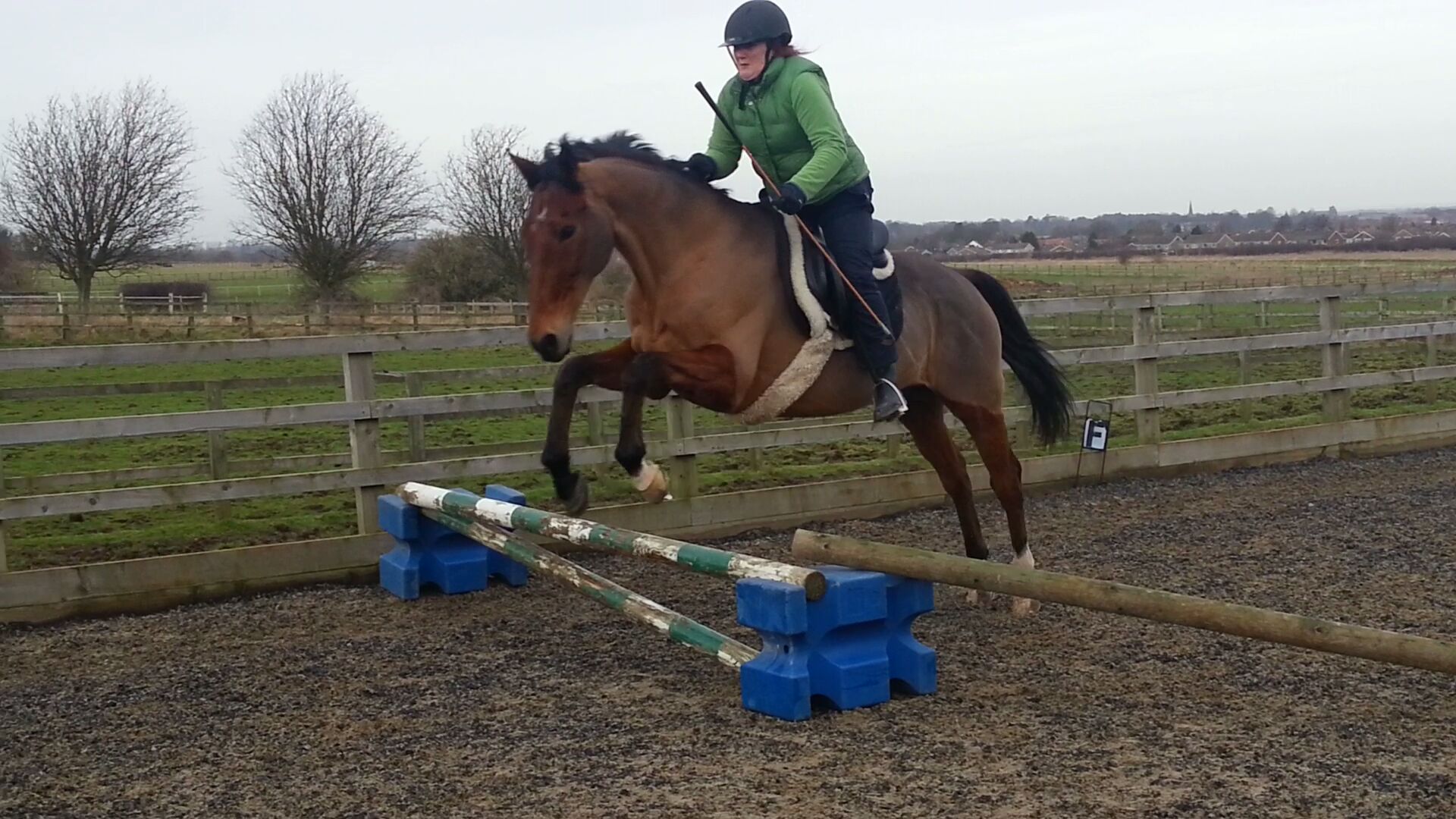 ---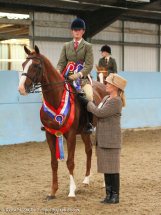 Purple Moon winner of the in hand and ridden championships 2012
Purple Moon and Chantel Wootten Picture courtesy of
www.rsphotographics.com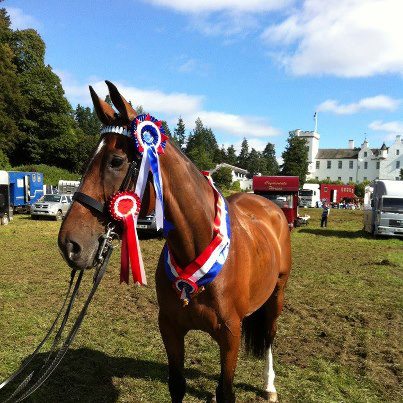 Late Bar winner of the Scottish in hand championship 2012
---
---
---
---