Horse Directory Everything For Horses And Horse Riding
UK equestrian information service listing articles about horses, horses for sale, and horse racing news and features.
Horse Racing Clip Art
A small collection of Racing clipart please be patient while this page loads. If you wish to use any of these images please first visit the link at the bottom of the page to read their terms, and see more clip art like this.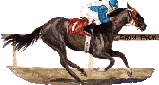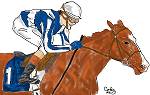 All Clipart on this page is courtesy of Cindy Pierson
Check out our own free equine graphics
[Home] [Tack and Clothing] [Feeds and Supplements] [Clubs and Societies] [Education] [Charities] [Software] [Books] [Videos] [Webrings] [Fundraising] [Equestrian News][Articles] [Racing Index][Racing Diary][Racing Clipart] [Free Graphics][UK Racecourses] [UK Trainers] [Veterinary] [Pedigree][Breeds] [Unique Services][Show Diary][Equestrian Art Gallery][Topsites] [Other Topsites] [Other Equestrian Links][Free Horse Cards] [Magazines] [Celebrity Sites] [Insurance][HorseboxesAndTrailers][Online Lessons][Visitors Links/Add URL]